Summary
In today's blog post, we have a special guest, June, an early HeroMode beta user. June tells the story of her multi-year weight loss journey, and how she uses HeroMode to stay organized and motivated on her diet, exercise, and goals. Spoiler alert: after years of struggling, June finally reached her target weight this year!
Doctor's Orders​
My weight loss struggle has been such a long journey that I can't even recall when did it "officially" start.
But I do remember, since four of five years ago, I have been told by multiple doctors and specialists that I should lose some weight. I was never obese, but I was heading down a dangerous path of developing serious health issues.
So, for several years, like so many other people, I tried to lose weight. I exercised more and attempted to eat less. I started to do Intermittent Fasting by skipping dinner. But then I'd end up so hungry late at night, that I succumbed and ate a full belly of unhealthy snacks.
This continued for years, as my weight fluctuated up and down.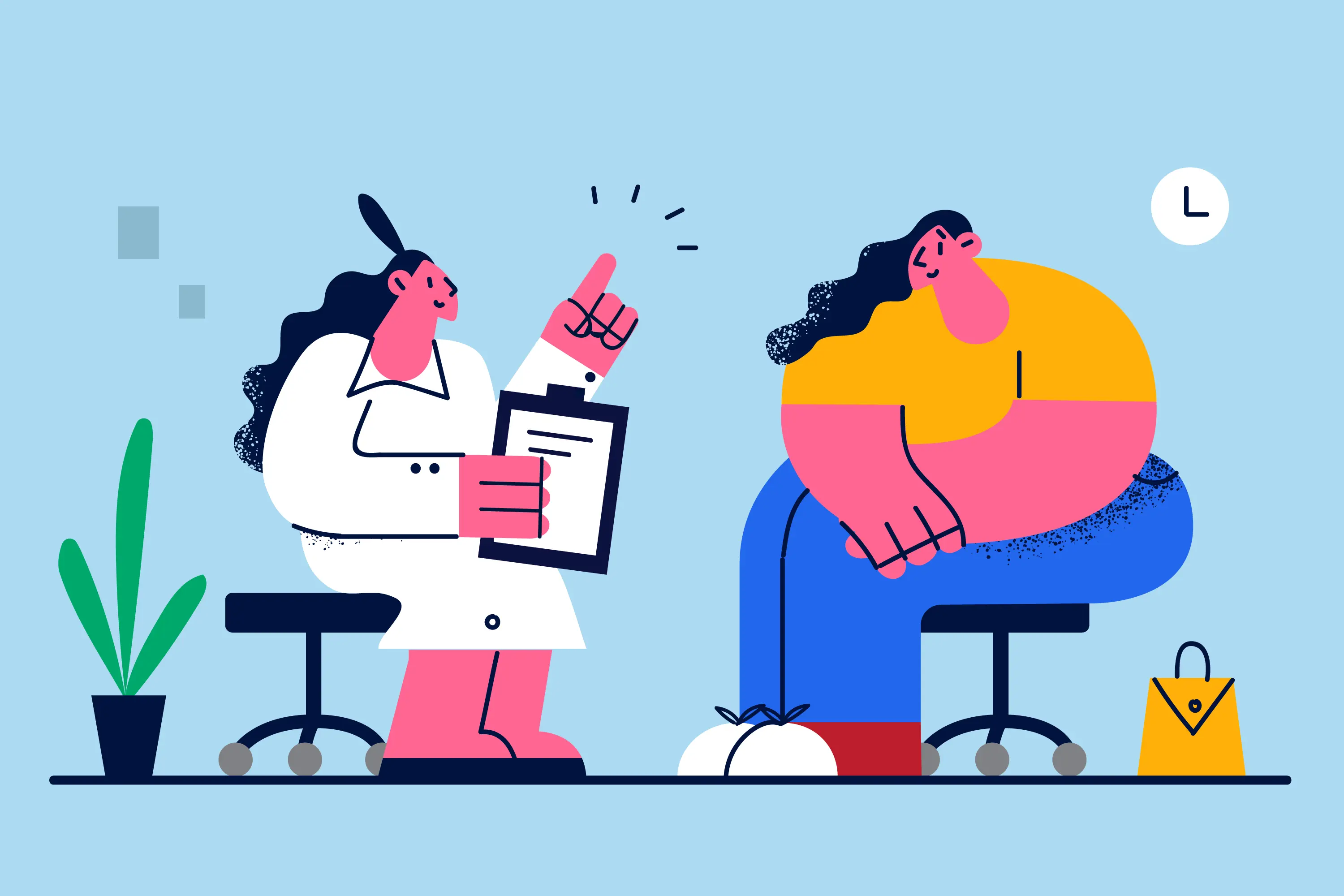 Above: Multiple doctors have suggested that I lose weight, but it's been a challenging journey.
Last August (2022), I had another doctor's appointment. Having had multiple doctors telling me to slim down, this time I wanted to prepare better. Like brushing your teeth before going to the dentist, I worked on losing some weight before the appointment. I was able to get to the lowest weight I've been in years, and proudly, I saw my doctor. But then I was told, still, that I should lose some weight.
That was really quite a bummer. But the silver lining was that this time, unlike all the previous doctors, this doctor gave me a specific target weight. I was told to lose 10 pounds.
Tracking My Weight Loss Goals in HeroMode​
I had been using HeroMode already at that point. And now, with a target weight in mind, I turned my goals into milestones.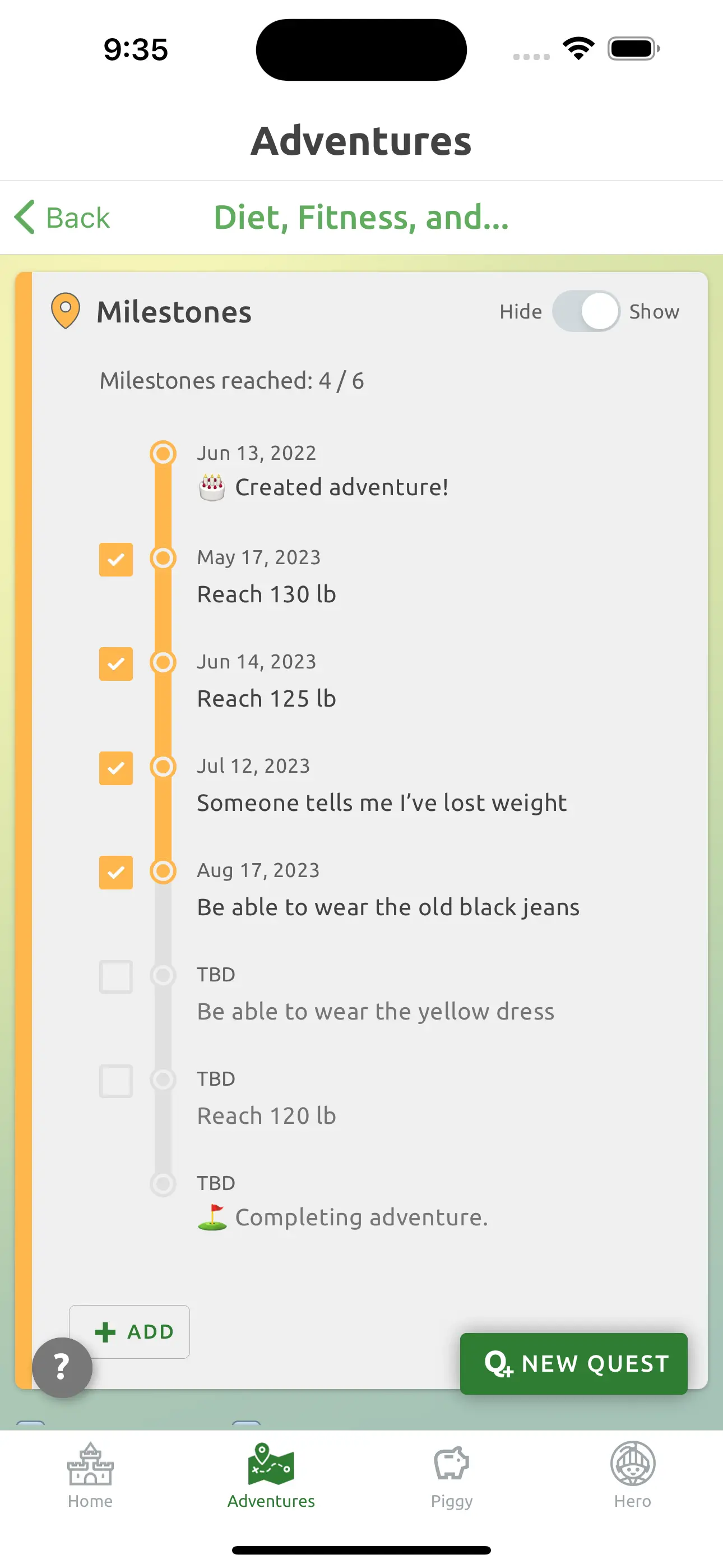 Above: I turned my weight loss goals into milestones in HeroMode. There are milestones about reaching certain weights, and also my goals of being able to fit into old clothes.
I also have several repeat quests set up for diet and exercising.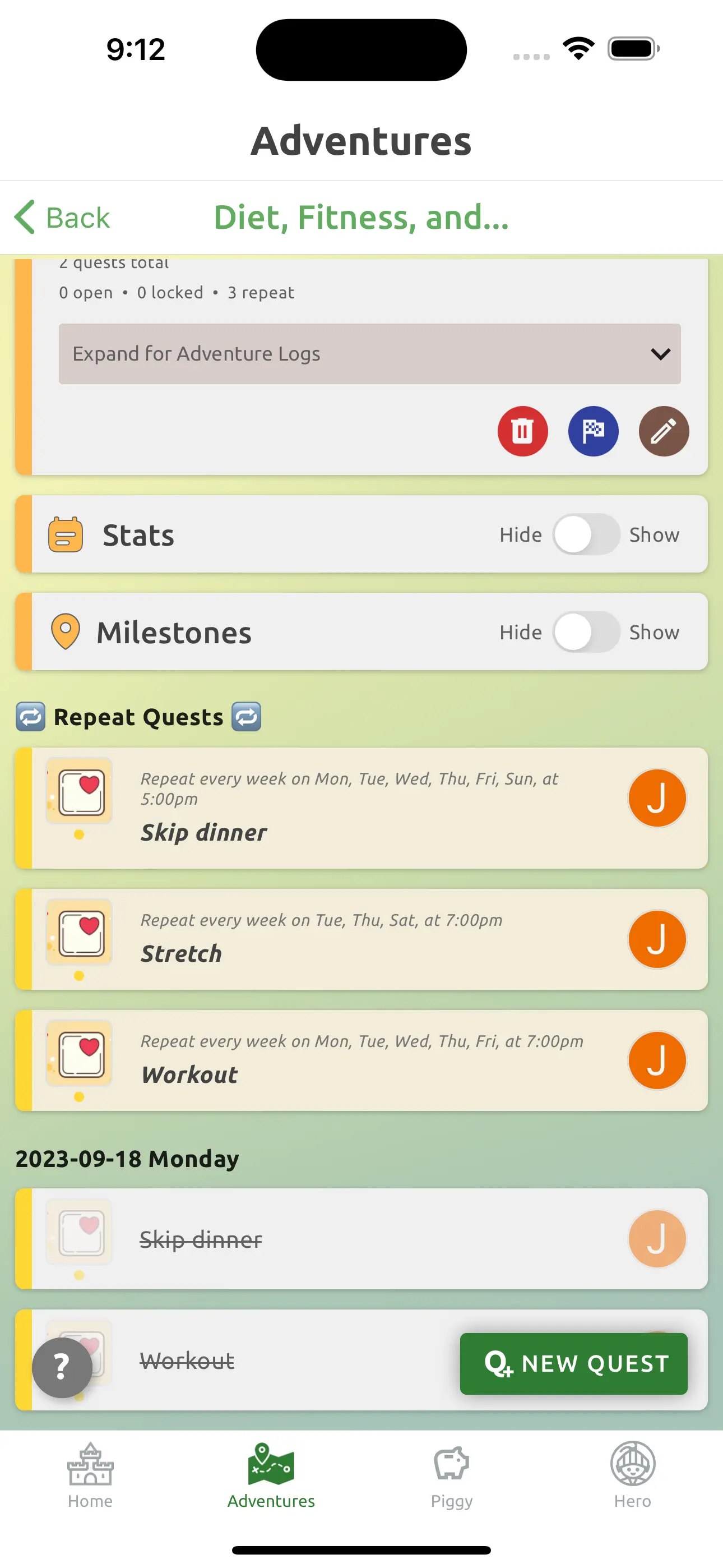 Above: Almost everyday I have repeat quests for diet and exercising. For example, I have one for intermittent fasting (skipping dinner).
Figuring Out What Works for Me​
From my years of attempting to lose weight through diet and exercise, I know I needed something more. Diet and exercise alone have not been enough for me.
Towards the end of last year (2022), I came across a few Youtube videos on insulin resistance. I actually had heard of insulin resistance before from one of my doctors, but the concept didn't sink in back then. With the Youtube videos, I started to realize I have many symptoms of insulin resistance: fatigue, constant food craving, and irritability (I get "hangry" all the time).
I also learned that insulin resistance is a vicious cycle. The more you eat, the more insulin your body produces. And the more insulin your body produces, the more you crave food. So, to break the cycle, I started Keto diet and reduced my carb intake.
The first couple weeks of Keto was tough. I had headaches, and felt quite tired. I even had some mild fever - all symptoms of the "Keto flu". But despite these discomforts, somehow I also felt good. I could feel my body was changing in a recovery and healthy way. Plus I enjoyed the fatty and protein-rich Keto meals. So I stuck with it.
As I continued with Keto diet, my weight began to drop steadily, around 1 pound per week or every other week. My energy level also recovered and I felt more alert and focused. I no longer felt the constant food craving, which made it easier to do intermittent fasting. And when I eat, it's so satisfying to enjoy a big, nutritious meal.
Reaching My Weight Goal​
June 2023 was a (particularly) meaningful month for me. I finally hit the target weight my doctor had set! After so many years of struggling to lose weight, I can't help but feel a little emotional.
Besides the weight loss, I also feel lighter and more energetic. My body feels it's in a much better state. Now, I'm no longer on a 100% strict Keto diet. I'll even have a donut once in a while. But I feel much more in control of my diet.
Staying Motivated with HeroMode​
One benefit of being an early HeroMode user is that I got to propose features that I wanted to see in the app. For example, I was the one to suggest Adventure Milestones because I wanted to track my weight loss goals. I also proposed the Piggy Reward System to help me stay motivated. Since the launch of the Piggy Reward System, I've been enjoying it tremendously. I get coins by exercising and sticking to my diet. And I can use the coins to get desserts once in a while. It's a great way to stay motivated!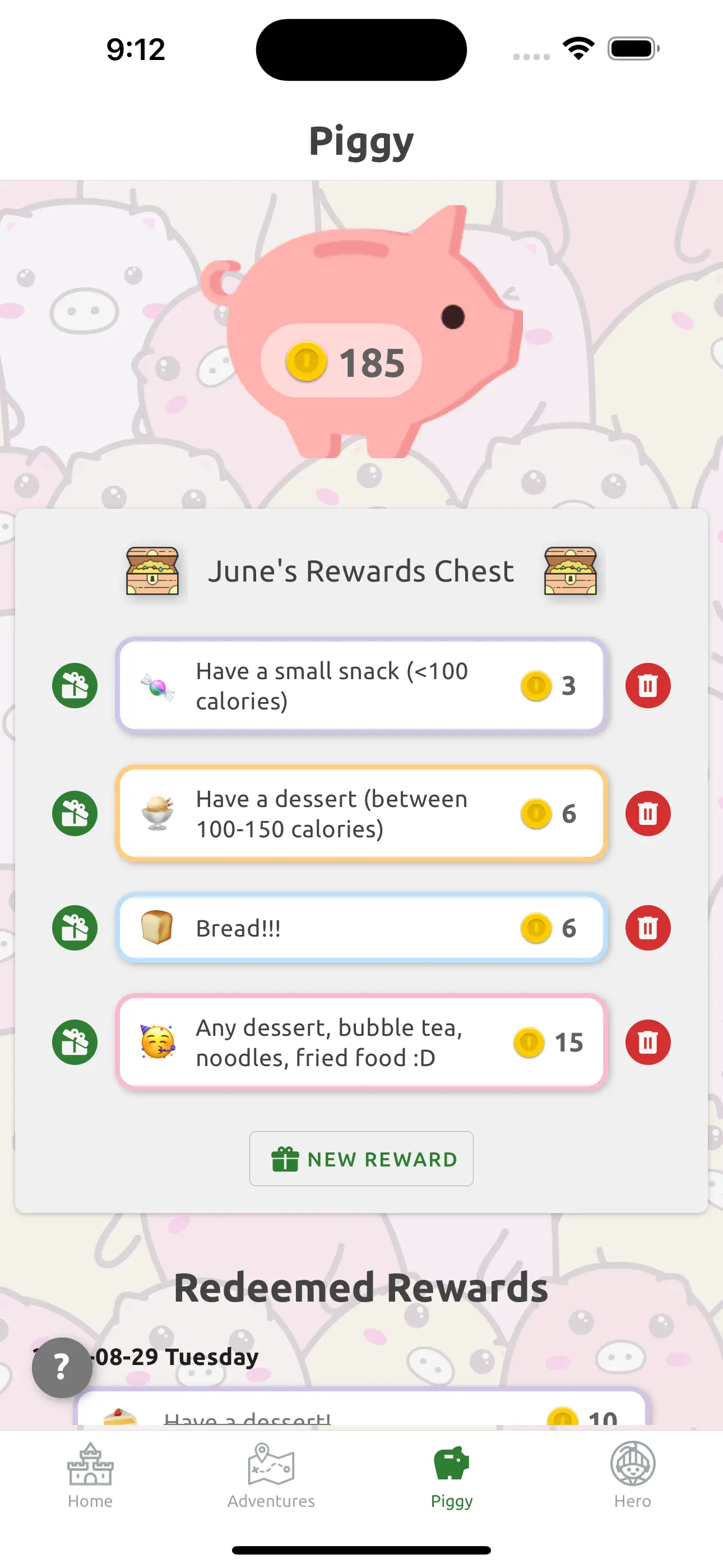 Above: My customized Piggy Rewards. I love how I can convert hardwork (diet and exercise) into occasional treats in a balanced and controlled way.
So, if you are also on a weight loss journey, and find yourself needing some extra motivation, consider giving HeroMode a try. Also identify what works for you, and listen to your body. I hope your weight loss and health journey will be a rewarding one!