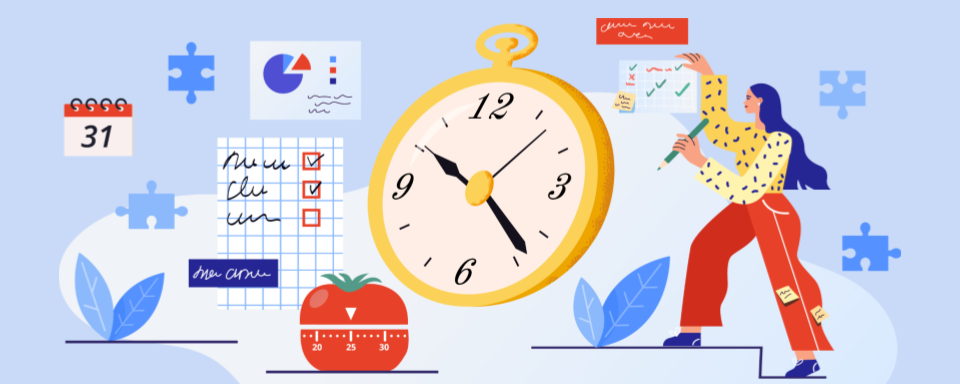 Summary
Timers can be a great way to organize your energy and tasks, but they can also be a source of frustration. Here are three tips to help you get back on track and stay motivated!
We learned so much from the HeroMode user survey. As we mentioned last week, the amazing user feedbacks have inspired us to map out the roadmap for HeroMode v4. There are a lot of areas we will be improving, and we hope v4 will be a meaninful step forward for HeroMode's users.
Another interesting observation that arised from talking to users is a common phenomenon, "productivity fatigue". You probably have experienced yourself. Especially if you are using a productivity management app like HeroMode. Every day you complete your tasks, and you feel good about it. But once in a while, you might fall behind. Then the tasks start to pile up, and at some point it becomes so overwhelming that you don't know where to start. You just don't feel like you have the energy to play catch up anymore.
Timer-based Quests and Productivity Fatigue​
We notice the "productivity fatigue" phenomenon especially with users who have set up timer-based repeat quests. For example, repeat quests like "Work 1 hour", or "Read 30 minutes".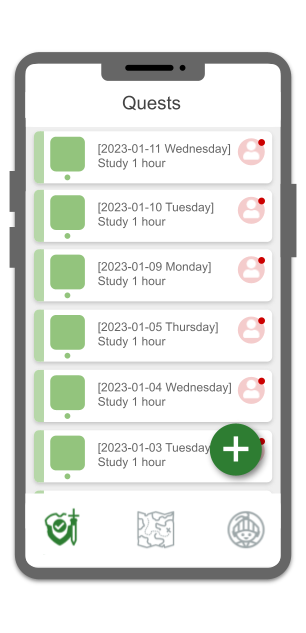 Above: A long list of uncompleted repeat quests can feel very overwhelming!
While timer is an excellent way to get yourself to do something, it might not work all the time. Our attention and focus can fluctuate from minute to minute, and sometimes interruptions are inevitable. In fact, a quick search of "Pomodoro method doesn't work" will show you that many people have trouble sticking to a timer (such as this one).
So what to do if you are falling behind on your timer-based quests?
Tip 1: Catching Up is Overrated! It's Okay to Delete​
First of all, it's okay to delete and skip quests. Instead of forcing yourself to complete every single quest, and feel like you are "in debt", remember that the whole point is to motivate.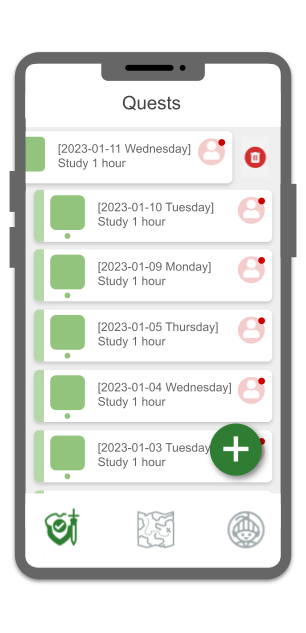 Above: It's okay to delete repeat quests that you can't get to. Starting fresh is a lot more motivating than playing catch up everyday.
Tip 2: Pause Repeat Quest When You Need a Break​
Another handy option is to pause repeat quests. This is useful if, say, you are on vacation, or you need to take a few days of break from your productivity routine.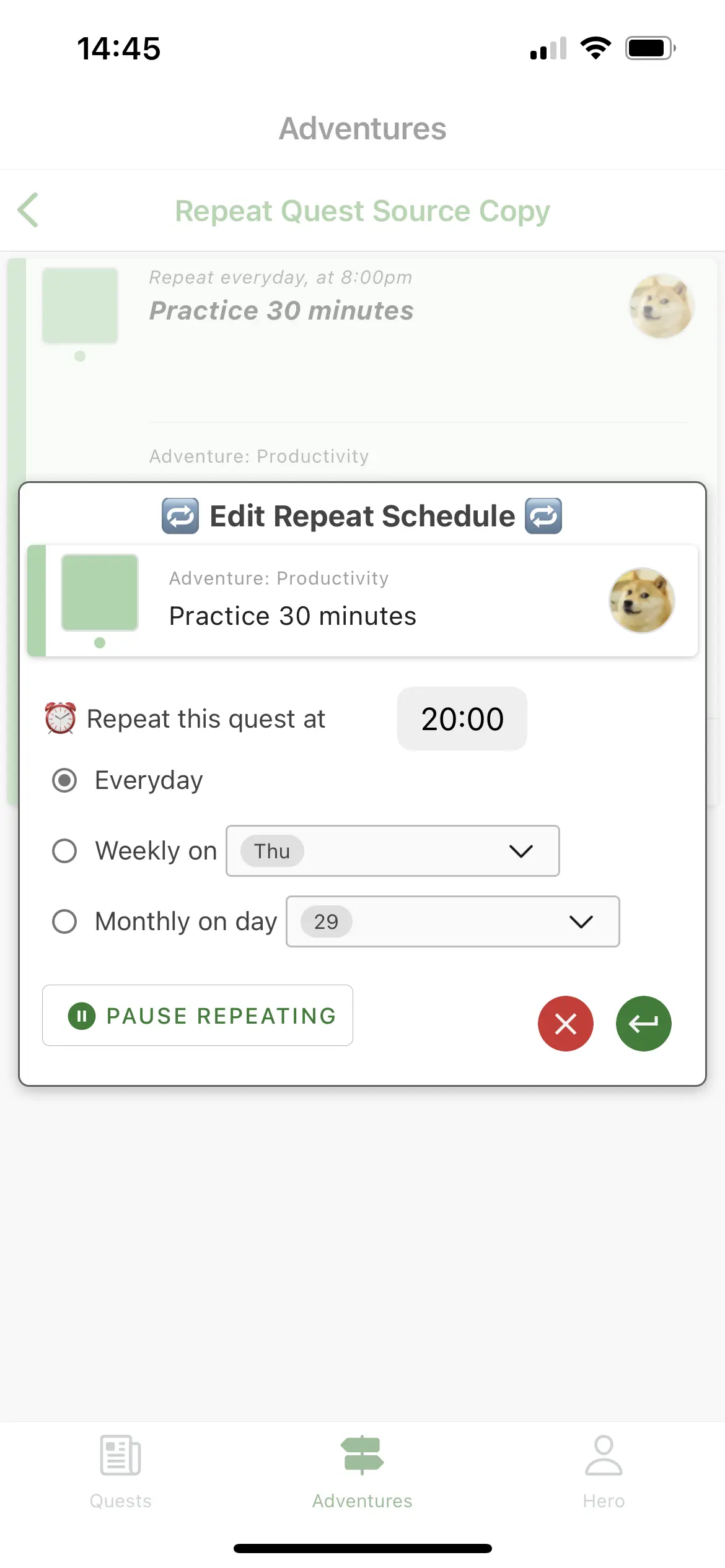 Above: You can pause repeat quests temporarily, say, if you are on vacation.
Tip 3 (Most Important): Result-based Quests Instead of Timer-based Quests​
This final tip is the most important one, and taps into the psychology of motivation. Instead of setting up timer-based quests, try to set up result-based quests. For example:
Instead of "Read 30 minutes", try "Read Chapter 1 of GEB".
Instead of "Study 1 hour", try "Review problem set #2", "Take notes on core bio mid term", etc.
Instead of "Work 1 hour", try "Reply emails", "Do Sammy's code review", "Send meeting recap", etc.
Why result-based quests? There are several reasons:
Seeing results is inherently motivating. Over time, when you have completed several result-based quests, you can see all the progress you have made. For example, going through many chapters of a book, or completing many tasks at work. Whereas for timer-based quests, you just see accumulation of time. That doesn't give you as a strong a sense of accomplishment.

Result-based quests are more flexible. You can adjust the difficulty of the quest to your current level. For example, if you are feeling tired, you can "scope down" a quest ("Read Chapter 1 of GEB, up to page 32" instead of "Read Chapter 1 of GEB"). Or if you are feeling energetic, you can choose a quest that takes longer, or is more difficult. This is not possible with timer-based quests.

Writing result-based quests forces you to think about what you want to accomplish, and break it down into small, bite-sized tasks. This takes effort, and it's exactly the kind of effort that's worth the investment. In their book, "Peak: Secrets from the New Science of Expertise", authors Anders Ericsson and Robert Pool emphasized the importance of deliberate practice: being aware of what you are doing and making adjustments to improve. Writing result-based quests can help you develop such awareness.
So next time you feel like you are being chased by your timer, give these tips a try!